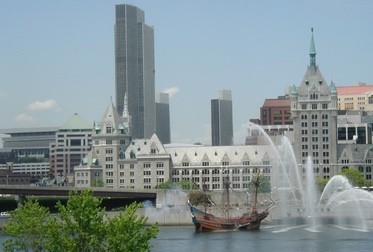 The CDGS is positioned to have access to resources critical for genealogical research.
The Capital District of New York State is home to many records at the city, county and state levels.
The NYS Cultural Education Center in Albany, home to The NYS Library, NYS Museum, & NYS Archives is considered one of the top genealogy repositories in the country. It houses a variety of records, such as church records, local histories, published genealogies, DAR source publications, military publications, census films for federal and state enumerations, city directories and statewide newspapers.
The NYS Archives has New York State Department of Health vital records indexes, one of only eight locations at which the indexes may be read in person. It's also a great place to look for military records, tax records, early wills and even the ledgers that hold Department of Corrections information. The NYS Library website is available at http://www.nysl.nysed.gov/.
The Capital District Genealogical Society maintains a genealogy support desk at the Library operated by our volunteers. they are on duty Monday - Friday. A list of researchers for more extensive research assistance is maintained by CDGS and available upon request.
In this historic area at the confluence of the Hudson and Mohawk rivers, several counties are very close together, each with a unique collection of church records, cemetery records, surname files and more. County courthouses are important sources of information, such as probate records, real estate records and sometimes naturalization paperwork. Within an hour's drive are the counties of: Albany, Columbia, Rensselaer, Fulton, Greene, Montgomery, Rensselaer, Saratoga, Schenectady, Schoharie, and Washington. Most, if not all, have active Historical Societies or county records offices such as the Albany County Hall of Records.
If you are an Ancestry subscriber there is big news. The NY State Marriage Index 1881 - 1965 is now available on Ancestry. The search site will open in another tab.
Help Wanted!
Volunteers for the Hospitality Committee are urgently needed to set up refreshments at our monthly meetings. We currently have only one volunteer! To continue to offer refreshments at meeting we need more helpers!

Email us at contactcdgs@gmail.com if you can help.
Are You Moving?
If you are changing your address please let us know by emailing us at contactcdgs@gmail.com. Our newsletter, sent by bulk mail, will not be forwarded by the US Postal Service, so you must notify us directly.