Newsletter Email
We have created an email account for newsletter submissions and questions. Please send articles to. newsletter@cdgsny.org
Are You Moving?
If you are changing your address either temporarily or permanently please make sure you log in to your account and change your address there (update my profile in the drop down menu on the right. We send our emails and newsletters to the information we have on file for you, so if it changes you must put those changes in the system. Our newsletter, sent by bulk mail, will not be forwarded by the US Postal Service, so if your address changes you will not get the newsletters unless you submit your new address.
Calendar of Upcoming Genealogy Related Events
Some events are sponsored by CDGS and are so identified. Other events are sponsored by other organizations. (Click on the Calendar Image)
Upcoming Events
(see "Events" for a full list)
February 25, 2023
Researching and Interpreting the People Who Were Enslaved in New Netherland and Colonial Albany with a Focus on the Rensselaer and Schuyler Families.
with Heidi Hill
Memberships expired on December 31, 2022. If you have not already renewed your membership - now is the time! Don't miss out on the January Newsletter.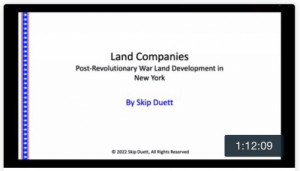 Did You Know?
Members of CDGS can access some past presentations in our "Members Only" Section.
Some examples of available videos are:
March 25, 2023
1 pm ET
The DAR and Genealogical Records
with Kristen Moore
April 22, 2023
1 pm ET
A Living Landscape:
Families and Settlement in Albany County, NY
1600 - 1900
with Kathryn Kosto